nue vodka Rolls Into Fort Worth's Railroad-Inspired Rogers Roundhouse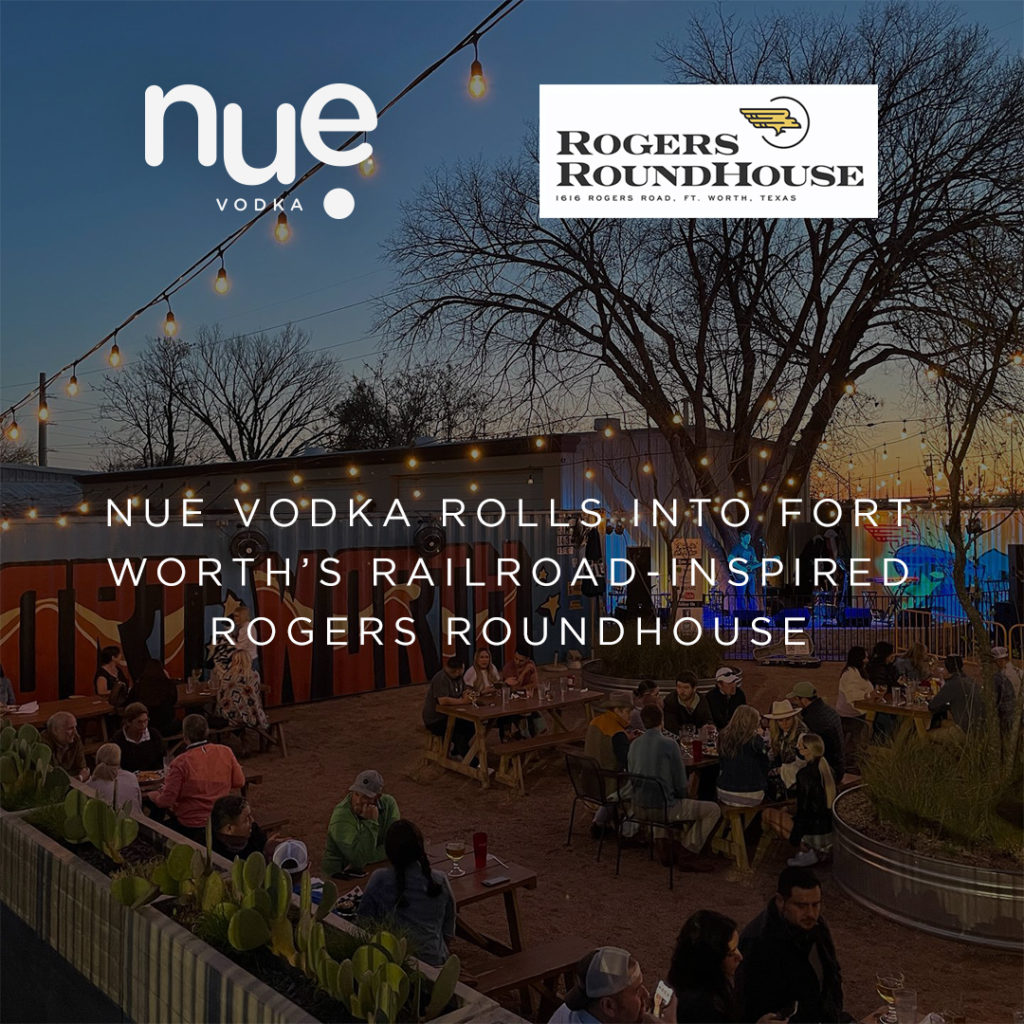 Sip award-winning Southwest Spirits at a unique Texas urban patio as trains lazily coast by.
With colorful shipping containers, clever pub cuisine, and plenty of outdoor space for relaxing—Rogers Roundhouse is an excellent place to kick back and enjoy the crisp, fresh taste of nue vodka. Now being poured at the industrial-style restaurant, our small-batch vodka is 100% American owned and proudly handcrafted in Dallas Texas – what we call DFW. We distill it 7x for the ultimate pure experience that's just the ticket for the imaginative cocktails at Rogers Roundhouse.
The arrival of the railroad in 1876 put the Wild West town of Fort Worth on the map, and Rogers Roundhouse celebrates this seminal part of the city's history. And it's located in the ideal place to do so: between the upscale shopping center of University Park Village and Davidson Train Yard, a local landmark and active home of the Union Pacific Railroad.
Named for the locomotive repair building—the roundhouse—that once operated close by, Rogers Roundhouse caters to day drinkers, sports fans, patio sippers, and pups looking to cool off under the massive fans and umbrellas. You'll find a menu of carb-loaded crowd-pleasers like wagyu cheesesteaks, loaded tots, and trays of chicken nuggets – Texas is known and proud for our food + spirits tastebuds. With big TVs and a regular schedule of live music, it's easy to see why this laid-back hangout is a favorite for parties, groups, and students from nearby Texas Christian University (TCU). 
Now with Southwest Spirits' nue vodka at the iconic bar, the creative beverage program at Rogers Roundhouse is reaching new heights—all while keeping it Texas-made in the shade. So raise an ice-cold nue-mule copper cup as we celebrate this homegrown partnership that's full steam ahead to a bright future together. All Aboard!